HOW CAN WE DELIVER ON A BRIEF TO CAPTURE A PHYSICAL AND SONIC EXPERIENCE?
Molecular Sound invited Perspective Pictures to create a visual piece that displayed their physical space and displayed their showreel all-in-one, ramping up their socials and website to a new level by finding a new way to showcase their portfolio.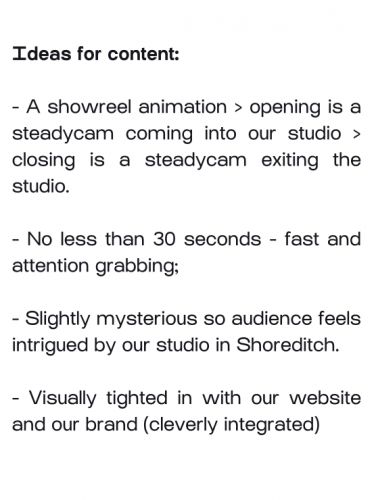 Before creative development, we started on-site with a tour of their studios with our creative and production team.
This meant we could map out the space to smooth out any kinks and tailor any ideas on transitions/motion graphics to the studio early before production.
Molecular already had a good feel for what they were looking for, so all we had to do was to get on the same page and fill in the gaps.
We worked through a couple iterations of a beat sheet, before drafting up a storyboard and mood film.
All this creative pre-production meant that the day of shooting went smoothly.
We used an FPV drone on the shoot– a piece of equipment capable of capturing video faster and more precise than any other drone on the market.
The video now sits on the landing page of Molecular Sound's website, along with a load of photography we helped them capture of their space.