The Floor needed us to create a video for their website that explained their creator funding platform (like Patreon, but specifically for artists and creatives, catering to their more specific needs). 
After our creatives got inspired by the Clarks ad, "Clarks and Jamaica", we found the best approach would be to interview three ambassadors on their experience with The Floor, and its impact on their work, spawning from a simple question; "What does your craft mean to you?".
This naturally led the ambassadors to talk about how The Floor has aided their craft and developed their artistic careers, giving a genuine and impactive response that would resonate with interested potential users and drive action.
We used the RED 6K Cinema camera to make sure the quality was top of the line and added the filmic grading in post-production to give it the "Lo-Fi look". At the end of the day, we got the highest possible quality footage, giving The Floor more flexibility in the editing sessions to bring their vision of their brand to life.
We also used some camera trickery on-set such as the use of ultra-wide and kaleidoscope lenses to give the video some flare, grab attention and maintain engagement.
We collected and used over 100 props on three custom-built sets, with cinema-grade Arri lighting to add to the warm, cosy feel of the video.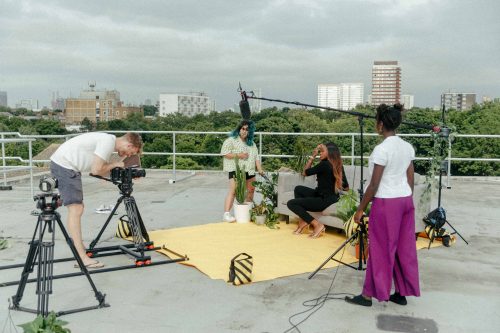 Throughout the 16 hours of on-set shooting, we captured 120 minutes of footage with enough footage left over to create alternative edits and extra marketing material.
After 174 hours of post-production including audio mixing, colour grading, VFX and so on, we sent the 100-second video to The Floor with plenty of extras that they continue to use in their marketing material to this day.
And that's a wrap.