Whilst the COVID rules seem to be constantly changing around video production, one thing remains the same…
We're still here doing what we do best, turning heads with powerful digital-first video content! These days, we're putting the PP in PPE when we're on set, but offset, we're still working our video production magic. From zoom interviews, stock footage, to selfie videos, animation and Daily VLOGS, our editors are working remotely and continue to create dazzling content for social!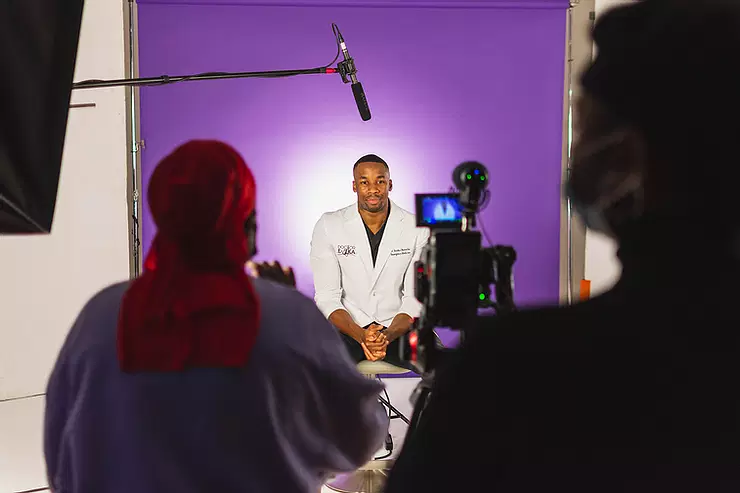 Looking for some quick self-shooting tips to win the social content game? Well, look no further…
We've put together this cheat sheet for you to get the most of your video content.
My eyes are up here!
Make sure your camera lens is eye-level. Not only does this give you the most flattering angle – it also ensures your audience isn't looking up your nose or down across your forehead!
Lights, lights and more lights!
The most important thing when filming is that we can see your bright and shining face!
One common mistake is sitting with a window behind you – no one can see that nice view, and instead, you'll be washed out and in the dark. Filming while facing a window will give you an extra boost of natural light (when it's not grim and grey out, that is!), otherwise, turn those lights on!
If you're going to be filming from home on a regular basis, ring lights can be an inexpensive way to give you an immediate and professional-looking glow.
Sit & Stay!
Find somewhere stable to leave your device. It's often distracting trying to prop up a phone or laptop on a wobbly table that keeps moving around as you speak.
Using a laptop stand, tripod, or docking station can take you from shaky to stabilised superstar in no time.
Mix in some stock!
To break up your video and add some visual aids, throw in some stock footage! Even better, get your fans and supporters to enter their own footage.
Stock is a great Covid-safe way of adding high-quality footage, upping your production value – and there are thousands (if not millions) of assets available for any sort of video.
But, at the end of the day, nothing beats getting your audience involved. UGC is a great way to bring your audience into the action – quite literally. See for yourselves…
Get that buttery smooth audio
Head to the smallest room you have, turn off that Xbox in the background and close all the windows – we want to reduce as much echo and background noise as possible for creating crystal clear audio.
To take it a step further, record the audio first with your microphone (or phonemic) pointing towards you, and make sure to speak loud and clear. Slap on a layer of stock footage, and before you know it, you're basically Scorsese (well, almost).
Time to level up
There are more eyes on screens at home, so using digital video is more vital than ever.
Creating content that engages and delivers value to your audiences is key for brands to keep moving forward – and homegrown content is a great way to keep your audiences coming back for more.
Still, looking for more freebies? Take a look at our VLOG – Quick tips to level up your video game…
Looking for professional support when it comes to levelling up your video game and creating cracking content? Get in touch with the team today at hello@perspectivepictures.com
Find out more about who we are and what we do by visiting the rest of our website!
You can also see our faces more often by following us on Instagram.