Perspective Pictures is more than just your average video agency. We are young, creative, and full of ideas and energy – it is this that sets us apart! We know what consumers want, and we make sure our content drives our vision forward.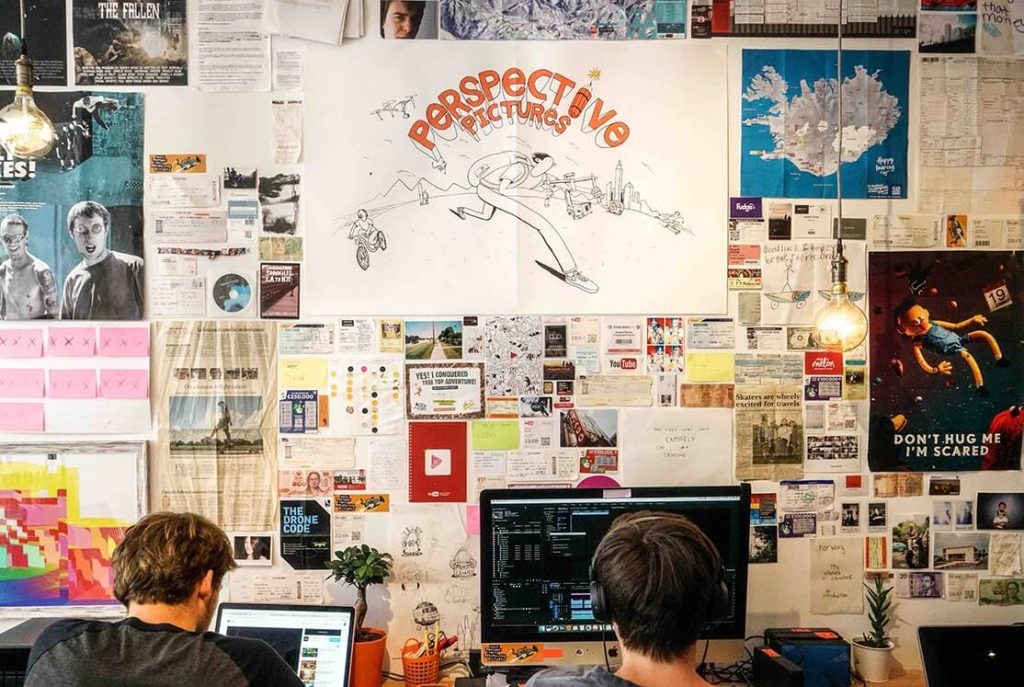 But how did we get here?
We have worked with some of the biggest brands in the world, but in reality – we are a young company, and we learn new things every day. We want to continue to create as well as provide insightful and interesting content which will engage our target audiences. It's at the heart of our message and mission.
We sat down and had a think about how we got here: what sparked our interest in making content, creating video content, and what brought us to Perspective Pictures.
In this blog, you'll find answers from a few of our team, but don't worry – we'll introduce ourselves first!
Who are we?
Rupert: I am Managing Director and Founder of Perspective Pictures, so I have been here since 2016.
Ben: I'm Head of Sound which involves both on set sound, and post- production. I do my best to make sure everything Perspective Pictures create sounds as good as possible.
Tom: I have a dual role as the Head of Marketing and Post-Production, but due to my experience with both photography and video, I am sometimes required on set.
Charlie: I am a senior editor.
Tiru: I am Head of Client Services. This means that I make our clients love us, and make the team hate me.
Hallie: I am one of the filmmakers here.
Nathaniel: I am a producer at Perspective Pictures. I crack the whip to make sure the client gets the video they love on time, as well as organising the shoot and logistics of it all.
We have been creative since a young age
Rupert: I always loved movies as a kid, and messing around with a video camera. I started this work because I wanted to try and make an action movie on YouTube. I saw that it was a real pain to get hold of 'replica weapons' as it is, so decided to settle with Nerf guns. Then I thought – hey these could be used as ads.
Tom: I always had a lot of energy growing up and never knew quite what to do with it. I decided to study a creative subject at sixth form and combined media studies with photography. As part of my media course, I had to create a music video and fell in love with video production.
Tiru: I grew up watching movies. I love movies. I even tried to get into the British film industry but I wasn't pretty enough.
Charlie: Ever since I was a kid. I have always loved being behind or in front of the camera. I was a child actor, and have been in a feature film which is on American Netflix, as well as on Crimewatch. To then making stop motions all around when I was 12 or so.
Hallie: I've always been fascinated by moving imagery from a young age. I think there's something special about capturing moments in life. It's the closest thing to our memories.
We see an opportunity, and we act on it
Rupert: I made a big Nerf war film and wanted it to look more like a movie so thought I'd just add a production company logo at the start. I ended up calling it Perspective Pictures because all I thought was I'd like to change people's perspectives, and I liked how Martin Scorsese calls his films 'Pictures'.
We progressed very naturally from YouTube to film, people saw some of the videos I was making and started to ask if I'd make that for them. And that's how it all started.
But, working in video is not without its challenges
Nathaniel: Sometimes I struggle to get the team to stay on track with everything as I balance my expectations on set to their creative reality. I have to crack the whip to make sure the client gets the video they love on time, organising the various shoots and then the logistics of it all. It is always fun!
Tom: The main challenges I've faced are learning how to manage the team, and ensuring that the team members skill-sets are best placed on projects. We have a young and vibrant team with exceptional creative skill-sets and it's my job to make sure they're providing the best value they can to our client projects.
Charlie: I need to get better with reading briefs and following process.
We are proud of the creative work we do
Rupert: I am probably most proud of getting the company to move from Hertfordshire to London.
Charlie: I love pushing our boundaries and our limits in terms of software use and bringing a different style in whatever edit I make. I like having a distinct editing style. Just being a person you could go for a 'Charlie' type edit. Perspective Pictures lets me be unique, and that's something that has motivated me and spurred me on to keep being that.
Hallie: I love being a part of the creating planning for our first motion-graphic explainer video. It was so cool to see my initial ideas being created by Charlie.
Tom: The implementation of process across all aspects of the business, leading to improved efficiencies and project turn-around time.
And the experiences we get to have at Perspective Pictures
Rupert: I loved driving down the world's most dangerous road in Bolivia – it was so much fun.
Ben: Speaking of Bolivia, on a shoot there we got caught up in a protest and ended up being attacked by some local Bolivians. This was potentially the most I've ever been out of my comfort zone and although the thought of it still gives me the shivers, it's something that has shaped me and something I won't forget.
Hallie: My favourite project is the edit for Sports Bet and the Watford FC Instagram advert. Energetic, short, and explosive clips are my favourite type of videos to edit, as I can experiment and be more creative. It's also the type of content I'm most engaged with.
Charlie: My favourite project has to be flying to India with Perspective Pictures, and filming all sorts. Also BPF, which was a complete motion graphics video. And Morocco! Also a solo shoot I did for Peacock Boxing Gym. I met a boxer who I like. Also working in Barcelona with the whole football team at the time. That was awesome.
Tom: My favourite project to date has been working on the new company advert which involved us shooting on a tandem bike, a drift car and last but not least, a tank.
Perspective Pictures is a digital-first video production agency, and we thrive on the new, and exciting content we create. If you want to get in touch, send an email through to careers@perspectivepictures.co.uk, and be sure to subscribe to our blog to find out more about what we do.